DiBiase Heating & Cooling Company proudly serves our neighbors in Thornton, PA with complete heating and air conditioning services. Our goal is provide you with the ultimate customer services experience.
We do this by providing the fastest services from the most qualified technicians in the Thornton, PA area. See what your neighbors are saying about our unshakable customer-first service!

Local Reviews
for Thornton, PA
DiBiase Heating and Cooling Company
Rated
5.0
out of 5 stars based on
1
customer reviews
Powered by Nearby Now
Our Reviews by City
---
Great service
James

-

Thornton

,

PA



Review of DiBiase Heating and Cooling Company
---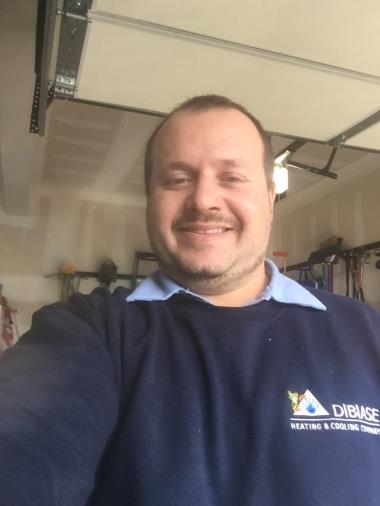 Kurt M.
Disconnect Power and remove wiring and failed control board. Install new OEM Control Board for Furnace. Complete all wiring connections. Remove Ignitor Assembly and Wiring Harness. Install new 120V Ignitor Assembly and Wiring Harness. Program Control Board as necessary. Restore power to system and test operation of Furnace. 1/28/20. Installed new control board and igniter. Performed combustion test and checked temperature rise. Furnace is working fine at time of service.
Near
Hunter Dr,

Thornton

,

PA

19373
Luis T.
No heat, found blower not running, ecm motor, test ecm ok, check board and board is not sending 24 volts to motor, we would have to get pricing and have to call customer with proposal
Near
Hunter Dr,

Thornton

,

PA

19373
Zach C.
Checked complaint about water on the floor around the air handler, cleared condensate drain, cleaned condensate pump. Started air conditioner, checked refrigerant charge, found under charged. Topped off refrigerant charge, balanced by sub cooling. Checked operation and temperature drop across coil. Signed up for cooling only maintenance plan please start in spring 2020
Near
Clayburgh Rd,

Thornton

,

PA

19373
Joseph D.
Performed quality assurance inspection of systems. Need to cut new trim and go back and repair trim and install new hatch.
Near
Memel Dr,

Thornton

,

PA

19373
Luis T.
Needs control module for outside new furnace, coil, outdoor,pad, whip, disconnect must add additional charge to outdoor unit. Replaced downstairs added humidifier drain line was re routed from outside to discharge line
Near
Memel Dr,

Thornton

,

PA

19373
Joseph D.
Provide estimate on ac and furnace options. Recommend hybrid system.
Near
Memel Dr,

Thornton

,

PA

19373
Luis T.
Performed two propane heat tune ups, check electrical low and high ok new filters, inspect heater burners and exchanger, down stairs heater in bad shape, even know passed combustion test, visual inspection is really bad, burners and exnchager cells are al rusted/corroded and metal is thin by now, can lead to faster cracks, on second floor heater blower on and off test was very different o2 difference there was 2% difference with blower on and off, also inducer making loud noise, bearings are starting to go bad is just time for the inducer to go bad completely, overall recommendations to replce both heaters due to condition and for human safe,
Near
Memel Dr,

Thornton

,

PA

19373
Joseph D.
Evacuated system and charge with Refrigerant. Add Leak Dye to the system and replaced Capacitor. Tested system and system is running to factory standards.
Near
Memel Dr,

Thornton

,

PA

19373
Christopher B.
Arrived onsite to perform AC Tune Up on system. Was informed that the First Floor system was not cooling the home. After testing system, found the system was completely flat of Refrigerant. Pressurized system to 250 PSI. Used Leak Bubbles to check all connections on the Indoor Coil and Outdoor Unit. Isolated the Indoor Unit by closing the Service Valves and the pressure held at a constant level. Opened the service Valves to reintroduce the Outdoor Unit into the system and the Pressure began to drop. Opened Lid of the Condensing Unit. Inspected Connections and leak checked all visible tubing and connections. Sprayed coil with Leak Bubbles wherever the fins on the Coil were bent or damaged. Was unable to determine the source of the Leak. The Leak is coming from the Condensing Unit, but the exact source of the leak is not known at this time. Need to return to evacuate the system and recharge with Refrigerant. Recommend adding Leak Dye to the system as well to help determine Leak point.
Near
Memel Dr,

Thornton

,

PA

19373